Most commonly known as AMG, the Amazon Marketing Group represents the advertising group inside of Amazon responsible for their display and search advertising solutions.



As a side note, while Amazon has renamed this group to Amazon Advertising, most people still call it AMG and it will take a considerable amount of time until everyone will start using the new name (s). Personally, I preferred AMG. I believe the fact that the old name had an easy to remember acronym made it a lot easier for vendors/sellers/advertisers to refer to it compared to saying "Amazon Advertising".
There are many advertising solutions offered by the Amazon Marketing Group and they are continually improving and adding new features. AMG includes:

On-site ads
AAP (Amazon Advertising Platform) which is now called DSP (Amazon Demand Side Platform).
Video ads
Mobile ads
Retargeting
Fire TV and Fire tablet ads
and also access to events that they organise together with the retail team.


You can see in the image below, the solutions from AMS / Amazon PPC vs AMG vs Retail Marketing.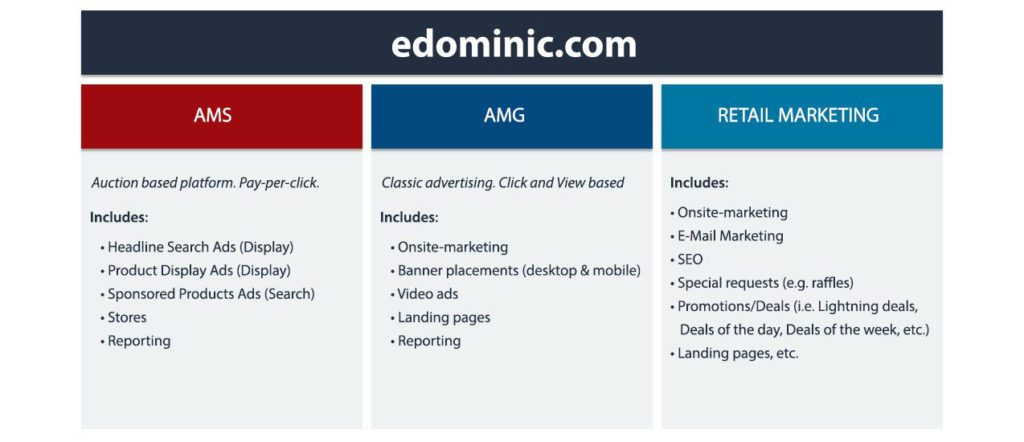 How to book AMG placements?
There are 2 ways to book placements with the AMG group (not referring here to AMS /Amazon PPC which is self-service):

Through an account manager – she/he will send you their packages quarterly. These will include their solutions, special events (if any) and the prices. Amazon will create and manage the campaigns for you. If you have a dedicated account manager, you are also most likely to get access to BETA products before anyone else. Or


Through ESS – ESS stands for Enterprise Self- Service and it is a fairly new platform offered by Amazon to select vendors and agencies only. This platform allows you to book and manage campaigns which would normally be managed by AMG. There are 2 advantages for using ESS: firstly, you are booking and managing the campaigns yourself – this is an advantage only if you know what you are doing and, secondly, you don't pay the 15% management fee to Amazon – we'll go through more insights about ESS in another article.


Pay plans and charges
Compared to AMS / Amazon PPC campaigns which work on a Pay-per-click (PPC) plan, AMG's pay-plan is a bit more complex. See all the details below:

Pay per click (PPC) and Pay per view (PPV) and Cost per detail page view (CPDPV).
Minimum of 10,000 EUR/$/£ per month spend.
15% management fee – this is taken from your overall budget, so while you don't pay extra, you are getting less impressions.


AMG also offers guaranteed delivery for which you would pay a fixed amount for a period of time. This is a great solution to use when you want to ensure you are winning against your competitors.
What is AMG best for and should you use AMG?!
The advertising solutions from AMG are best for creating consideration and awareness around your products and brand. You can also use them to generate sales, but keep in mind that search advertising (AMS / Amazon PPC) is better for it than AMG.


AMG offers great solutions and depending on your objectives, I recommend you give it a try. If your budget allows it, I would start by using DSP ads together with AMS / Amazon PPC. If your budget is limited though and you want to focus purely on selling, I recommend you focus on AMS / Amazon PPC only.