Amazon Brand Stores are not a new or an old subject. If you don't have one created, it's time to get one. If you have one created, then well done. Now take a step forward and use it to its full potential. Amazon Brand Stores can be an amazing tool to build brand awareness, consideration and to increase sales. In the next paragraphs, we'll look together at some of the advantages of having a store on Amazon. I also take this opportunity to let you know that we now offer design services as part of our activities. Get in touch for a free quote.



What are Amazon Stores?
Amazon stores are web-pages [on Amazon] that can enable sellers and vendors to showcase their brand and/or products. To help you visualise one better, think of it as a traditional website in which you can create multiple pages and sub-pages to highlight products and information about them and about a (your) brand.


See an example below from Yorkshire Tea. They managed to design a well-balanced store, incorporating not only information about their brand, but also focusing on selling their products (We'll look at this example again in the next paragraphs).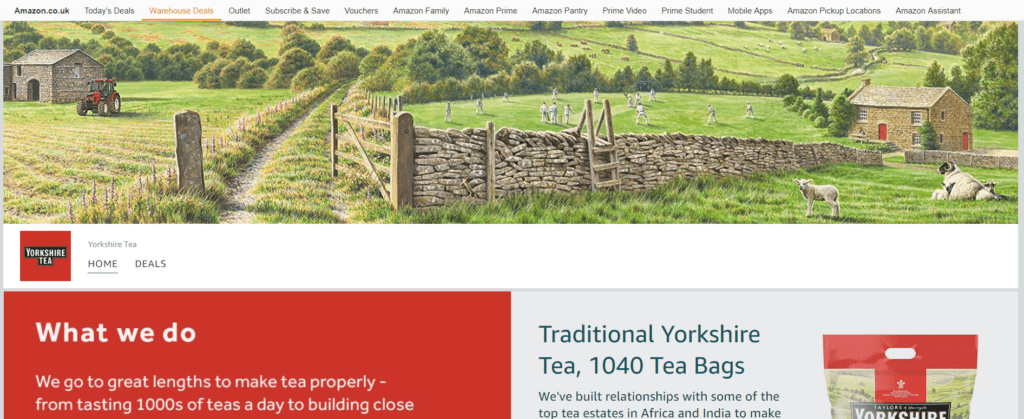 Amazon Brand Stores are free and you can create them easily from your seller or your vendor account as long as you have registered your brand on Amazon.


Did you know that Amazon stores are also known as AMS Stores, Amazon Brand Stores, or simply Brand Stores?
What are the advantages of Amazon stores?!
Amazon stores help brands to build awareness and consideration around their products. This free premium content can help you highlight product features and educate customers regarding your brand.


Similar to an ecommerce website where consumers return to purchase regularly, a well-designed Amazon store can help to build brand loyalty and increase the chances for return customers.


They are free for any seller that has their brand registered with Amazon and for any vendor. While sometimes "free" can be associated with "low quality", it is not the case here. Brand stores can be an amazing tool to help you sell more.


You can use these Amazon stores with paid campaigns and organically: I. You can link your Amazon advertising campaigns to these stores, but not only. You can also link campaigns that you are running outside of amazon and then track their results. For example, you can run a campaign on Facebook and link it to your Amazon Store and can then easily track its results. II. You can link your seller name to this store on any one of your products on Amazon. Customers that click on your name will be directed to your store.  By doing both of the above, you create a better user experience for customers and a better image for your brand.


The Amazon stores are optimised for both mobile and desktop. It is up to you though to create content (e.g. imagery) that is mobile & desktop optimised.


Store insights are available and can enable you to track the journey of a customer on your pages. You can also track sales per page and also insights by traffic source (organic, Sponsored Brands, or from other sources like your Facebook, Google, or Email campaigns).


How to improve your Amazon store?
If you have a store created, you can now take a step forward and improve it. The example that we saw earlier from Yorkshire Tea, while a very beautiful store, it doesn't use fully the capabilities that Amazon offers (for free). You can add videos, slideshows, text (and a lot of other content) and multiple other pages.


Here are 2 Pro-tips to help you improve your store:


Add multiple pages to your store and up-sell/cross-sell products. For example, if you are selling different products under your brand name, add them to the store by grouping them by category. When launching campaigns, link them to each separate page (e.g. if you have a campaign for men watches, link it to the Men Watches page). Now that you have multiple products and pages added, when someone gets to your Men Watches' page, they will also see your other pages (e.g. Women Watches; Smart Watches, etc.), so the chances that they will purchase one of your products increases. See an example below.


Focus your pages on products, instead of too much content like text, imagery, etc. The reasoning is simple: as Amazon is a product focused platform (and consumers see it this way), they expect to be able to easily see and purchase a product. The product plugin looks most similar to the organic products that we see on Amazon, so don't forget to use it.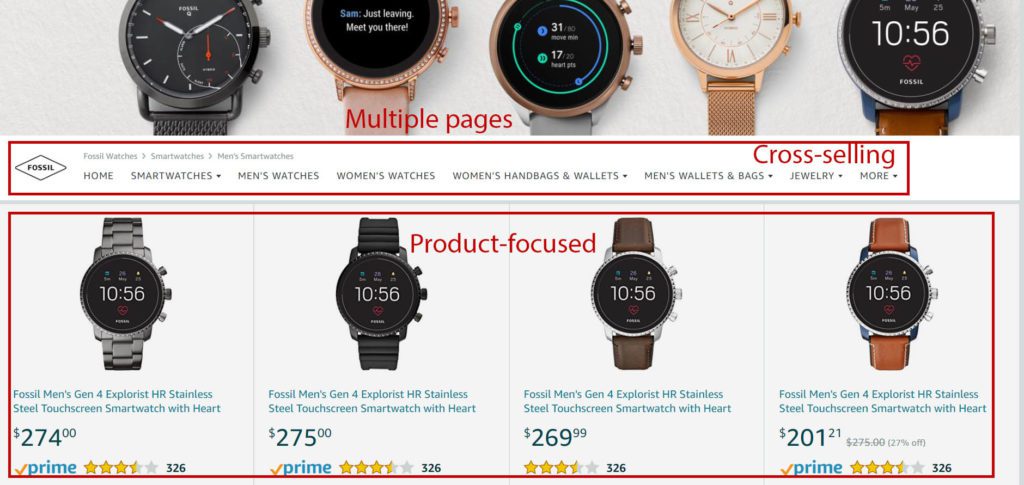 As always, we encourage you to test and try for yourself the Amazon stores. We recommend you get one built for yourself and see the advantages of having one. Get in touch for a free quote.