Below is a simple, but complete guide with best practices in managing AMS campaigns. The strategies that you will find here include the expertise that I've gathered along the years in working with AMS. These steps can be split in two: those to do before launching the campaigns; and those to do after launching the campaigns. If you want to dig into more details, please refer to the other articles on our site regarding each one of the topics below.

Before launching your AMS campaigns
DECIDE ON THE STRATEGY TO USE
Do you want to promote your products using all 3 types of AMS campaigns or do you want to choose one or two from the three types of ads: Headline Search, Sponsored Products, Product Display? Most of the time, this revolves around the budgets that you can spend. If you can afford it, use all 3 types of AMS campaigns. If not, keep in mind that Sponsored Products Campaigns are usually the best performing ones in terms of sales' performances. You can also combine AMS strategies with AMG and retail placements. See below what each one of these offer.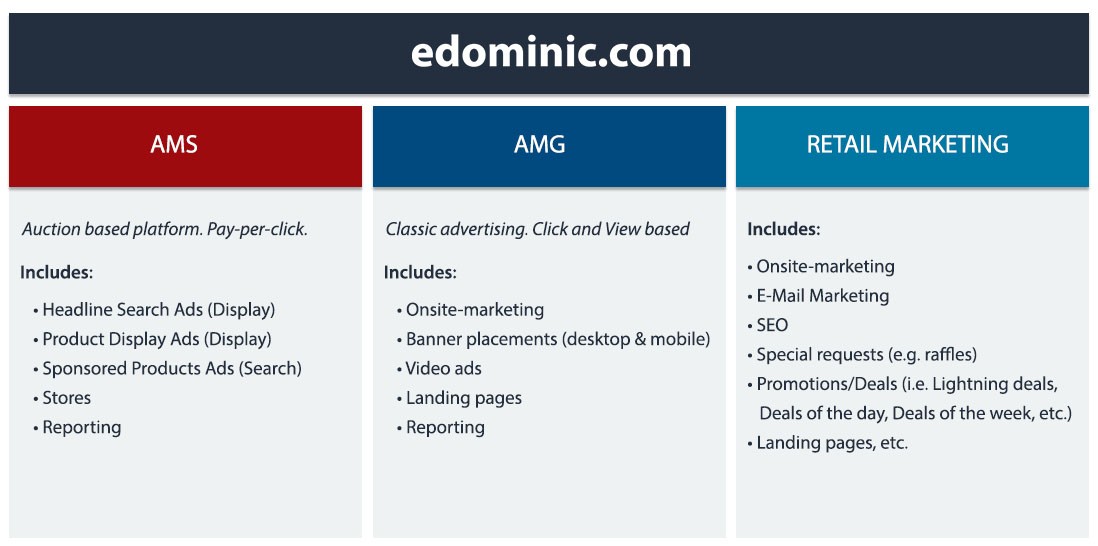 DECIDE ON THE PRODUCTS THAT YOU WISH TO PROMOTE
Select the products that you wish to promote – try NOT to combine products from distinct categories together in the same campaigns (e.g. laptops with smartphones).
You are likely to get better results if you create individual campaigns for each product category that you are planning to promote.
If your product portfolio allows you to do it, choose to promote products with higher star ratings and better reviews – this will influence consumer's interest (clicks) and trust in your products (which will ultimately transform into sales).  If you only have products with low star ratings, try to improve these: improve the quality of your product and service, twister products together, use VINE to get reviews, etc. This is relevant with all 3 types of campaigns – especially since Amazon has improved the look of the Headline Search Ads.
CREATE A GOOD KEYWORDS LIST
The list of keywords that you are targeting in your ads will be critical for the success of your campaigns. Do a proper keywords research for the product categories that you wish to promote. Group the list of keywords and your campaigns in 3 strategies: bidding for brand keywords (e.g. asus laptop); bidding for competitors' brand keywords (e.g. google chromebook); bidding for category keywords (e.g.laptop). For further directions on this step, please refer to How to build a good keywords list for your AMS campaigns.

CREATE COMPELLING MESSAGES AND CONTENT
Two places need your attention in this step:
Write compelling messages for your Headline search and Product display campaigns. See some tips about how to get your creatives approved more easily.
Optimise your product titles and content – even if not directly part of an AMS campaign, the content on your product detail pages is as important as the reviews and the star ratings that we covered in step 2 above. Add a compelling and descriptive title and make sure that the content that you have on the pages covers everything that a user would be looking for. This will increase the chances for you to convert. Consider also adding A+ content on the product detail pages – this is a good opportunity to convince the visitor to buy.
A strategy that you can use with your Headline Search campaigns is to link them to a landing page created with the AMS/AMG team, or create an AMS store and link to it. This can be another source for you to add content that will help the visitor to take a favourable decision for you.
…
After launching your AMS campaigns
BUILD RELEVANCY
Relevancy is the factor that Amazon uses to rank a campaign. Higher relevancy means that your ads are more likely to win the auction = more likely to win impressions if you and a competitor are bidding the same amount for a keyword (similar to the Quality Score from AdWords).
There isn't a specific formula to calculate the relevancy of an ad. We know that it refers to how relevant a specific ad is for users searching on Amazon and CTR is the metric used to calculate it.
Relevancy is built in time. Let your campaigns run for a couple of days to build relevancy (preferably for more than a week). Then, you can measure the real effect that each keyword has on the performances of your AMS campaigns.
OPTIMISE THE BIDS
As AMS is an auction based platform, your keywords' bids are essential for the success of your campaigns. By constantly optimising them, you make sure that your ads reach their objectives.
If the objective is sales' performance – optimise the bids and the keywords towards a better ACOS.
If the objective is brand awareness – optimise your keywords and the bids towards impressions and detail page views (DPV).
OPTIMISE THE KEYWORDS
As we've seen earlier in step 3, the keywords' list is essential. The step doesn't end with the initial list. You must continually optimise this list by:
Adding new keywords
Adding negative keywords to Sponsored products campaigns
Pausing keywords that aren't performing well
Let's take this example where the objective is sales:
If you discover that you are spending too much money on a certain keyword and it doesn't convert to sales, firstly reduce the bid. Leave it as it is for a couple of days. If you aren't seeing a drop in ACOS, pause the keyword, as it will most likely not improve.
Keep in mind that AMS doesn't allow you to remove a keyword from a campaign. You can Pause keywords and this will stop your campaign from bidding and winning impressions on that specific keyword.
After you have paused a keyword, you might notice that the sales on that search term have increased. This is due to the way sales attribution is calculated in AMS: if a user clicks on one of your ads after searching for one of the keywords that you are bidding for, AMS will record any sales happening in an interval of 14 days. If you notice sales increasing on a paused keyword, you might have been too quick in deciding to pause it, so you might decide to re-enable it.
I recommend you check directly on the amazon site if you are winning impressions with your ads. Do this by searching for the keywords that you are interested in. This will tell you if you need to increase your bids/lower them/bid for new keywords.
MANAGE YOUR BUDGET EFFICIENTLY
Ensure that your campaigns aren't running out of budget during the day. If you can afford it, a budget increase can help you in two situations:
if you want to spend more and
if you discover that the campaigns are running out of their daily budgets.
You can use the "out of budget" feature within AMS to discover what campaigns are running out of budget, or check the status of the campaigns in AMS.
In relation to the status of the campaigns, there is currently an issue with the AMS: only the status of the Sponsored products campaigns changes to "Out of budget"; Headline search and Product display campaigns' status doesn't change even when the campaigns have run out of their daily budgets – they change only if you set a campaign budget and you have run out of it.
As a last best practice in this guide, it is best if you avoid stopping and relaunching your campaigns. This goes back to the relevancy factor that we discussed above. Whenever you are starting a new campaign, you will need to build/re-build relevancy. If your competitors are running ads for the same keywords that you are, then they will be more likely to win the bids if their campaigns are running for a longer period than yours.
By following these steps, you ensure that your campaigns are always at full speed. It's best if you do these periodically (even daily) if time allows you. There are different 3rd party sources that can help you automate some of the manual optimisations, but in my personal experience, I have discovered that a manual approach brings better results (the cost is time).
Have you found our guide helpful? What steps do you use to manage your AMS campaigns? Leave your comments below.