Amazon has just announced that Prime Day will start on the 16th of July at noon. This year Amazon is celebrating its 23rd anniversary with another full day of discounts for millions of products: Prime Day 2018. On Prime day 2017, Amazon has seen an increase in sales of 60% compared to the previous year. Even higher results are expected this year due to the increase in awareness of the promotional event now taking place every year.

What is Amazon Prime Day
Amazon Prime Day is a one-day promotional event organised by Amazon exclusively for Prime members. On the day of the promotion, millions of products can be found on the ecommerce shop at a discounted price. Now celebrating its 5th year, Prime Day 2018 might just become one of the best shopping days of the year – last year Prime Day sales were higher even than the numbers from Black Friday and Cyber Monday.
Unlike BF and CM, Prime day is exclusive to Amazon and is for Amazon Prime subscribers only. If you're not a Prime member, you can't take advantage of the deals.
When is Amazon Prime Day 2018
Amazon Prime Day 2018 will start on the 16th of July at noon and will last for a day and a half.  Bookmark our page or subscribe to get updates as soon as they happen.
Keep in mind that Prime Day 2017 lasted for 30 hours instead of 24, so the deals are probably going to start a couple of hours earlier as well – take advantage of this with your AMS campaigns or even as a customer (i.e. snag a discount).
How to prepare your AMS campaigns for Prime Day 2018
We've put together a couple of strategies that will help you get the most out of your campaigns during Prime Day. For an even more detailed guide, check our Complete guide to optimise AMS campaigns.
I. Research your keywords. The backbone of your campaigns, the keywords are essential in your AMS campaigns. First, select the products that you wish to promote, and then build your list of keywords around them and around your objectives.
Don't forget to use negative keywords in the Sponsored Products campaigns – this will ensure you avoid spending money on keywords that don't convert well.
II. Start your campaigns at least a week before Prime Day – this will ensure that your campaigns have built some relevancy for the keywords that you are targeting.
Relevancy is the factor that Amazon uses to rank a campaign (similar to the Quality Score from Google AdWords).
III. Optimise your bids and your budgets. As the traffic on the Amazon sites will increase exponentially, you will have to face 2 things: campaigns running out of budgets due to the increase in clicks; and losing impressions to the competitors that are biding higher than you. Make sure you bid high enough and that you increase your budgets so you make the most out of the promotional event.
If you have a limited budget, rather than targeting a large amount of keywords and bidding high on all of them, focus only on the keywords that you know that are performing the best.
IV. Use all 3 types of campaigns. Your reach and your sales will be maximised if you combine Headline search campaigns with Sponsored Products and Product Display Ads.
If your budget is limited, keep in mind that Sponsored Products Ads have the highest sales' conversion rate, so you might prefer choosing them.
V. Use creative messaging. Your ads will most likely be rejected if you try using words like "Prime", "Prime Day" in your titles. You can still use titles like "special offers on our products". Read the ad copy guidelines to learn what other types of titles you could get away with.
VI. Combine your AMS campaigns with price promotions and other Amazon Marketing campaigns. In order for you to maximise your reach on all Amazon channels, I recommend you combine your AMS ads with AMG campaigns and Retail placements. See below what each one of these offer. In addition to this, don't forget that Prime Day is a promotional event and consumers are expecting price promotions – combine these with your campaigns (for example you can run a Deal Of The Day – DOTD – on Prime Day).
The AMS placements remain the same, but a little bird told me that Amazon will have some new ATF (above the fold) and BTF (below the fold) ad placements for Prime Day 2018 – contact your Amazon retail manager for more information.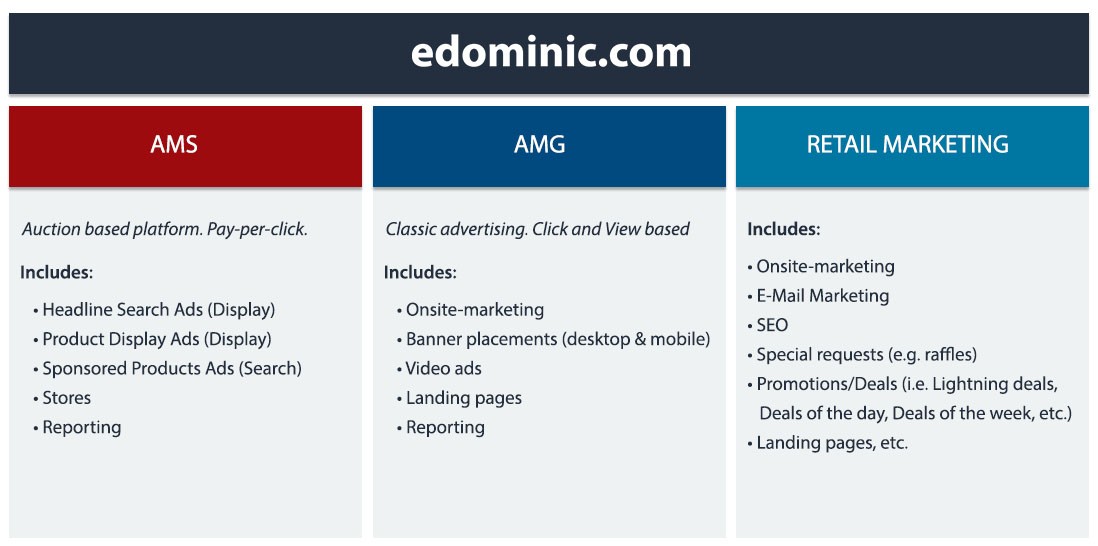 Other tips for Amazon Prime Day 2018
How to see if a product is really at a discounted price or not
If you are a consumer and you wish to buy something on Prime Day, keep in mind that not all the products that you are seeing on Amazon as being "a deal", are really at a discounted price. Before deciding on purchasing any products, I recommend you use CamelCamelCamel (The Camelizer – the extension for Mozilla Firefox and Google Chrome) – it is a free tool that allows you to see the price history of many products. You'll then be able to assess if a Deal is really a Deal. You could even discover if the product has been sold at a lower price in the past.
Can I shop on Prime Day if I'm not a Prime member?
Amazon Prime Day is strictly for Prime members, so you cannot avail of the deals if you are not one. What you can do is subscribe for a free one-month Amazon Prime trial – this is only available if you haven't  already subscribed before.
What deals to expect for Amazon Prime Day 2018?
Amazon has already announced discounts on some of its biggest products: Fire Tablets, Kindles, Echo. From my own experience, you should also expect deals from all the major brands. If you are planning on purchasing a product from any category (be it a laptop, a smartphone, or even clothes) wait for Prime Day 2018. Remember that Prime day will most likely begin a couple of hours before the actual start of the day. Be the first to visit the Amazon sites.
One last advice that I have for you is to check the products' reviews before purchasing. This will help you get an idea of the quality of the product.
With this, you are now ready to prepare yourself for Prime Day 2018. Don't forget that we are here to help if you need professional help with your AMS or with your AMG campaigns. Just drop us a line and we'll start from there.
Other resources: