There is no doubt that the coronavirus COVID-19 is already having a negative impact on most of the industries. Marketing is one of them, with around 70% of businesses cutting their advertising spend or stopping marketing activities altogether.

Be it that you represent a small, local business, or a global one, you [we] have to face the situation and adapt to it. It is estimated that the Coronavirus could cost the economy 2.7 trillion and that's not a negligible amount. Some experts even believe that the impact in the next months will be higher than what we faced in 2008 during the recession.
The marketing budget has always been the easiest to cut by companies. I have experienced this in both small and global companies and I am sure you have done so too. This situation is not different from that point of view, but it may be a necessary tactic in order to survive.
There may not be a clear answer for everyone as to how to proceed during the pandemic, but here's some advice that I hope you'll find useful:
Step 1: No matter the industry that you are in, take a look at the results from your marketing activities before taking a decision.
Do you see a drop in ROAS (Return or Ad Spend)? Do you see an increase in CPA (Cost per Acquisition)? If the answer is YES, then it is a clear indication that you are amongst the businesses that have been negatively impacted by the coronavirus. Consider reducing or pausing altogether your marketing campaigns.
Do you see an increase in ROAS? Did your CPA drop? Then you are among the businesses that are thriving in this environment*. Consider increasing your marketing budget as there is an increase in demand [and need] for your product/service.
*Don't be surprised about this; there are many businesses that are seeing an increase in demand due to the pandemic. One of these businesses is Zoom – take a look below at the Comparison in Google trends data for Zoom and Slack (Source: tomtunguz.com).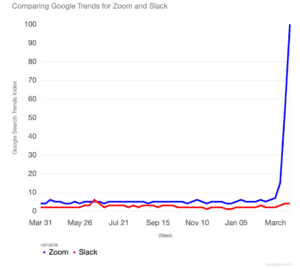 Step 2: Don't let your business die! ADAPT.
A quote from Darwin comes to mind in these challenging times: "It is not the most intellectual or the strongest of species that survives; but the species that survives is the one that is able to adapt to and adjust best to the changing environment in which it finds itself."
If you have decided to cut your marketing spend, make use of the budget you saved. Invest wisely in your product and service and adapt to the situation. Maybe you can invest in a new feature to help people working remotely?! What you MUST NOT DO, is let your business die. It won't be good for you and it won't be good for any of us. Businesses are like a domino. If one falls, others will follow.

If you are seeing an increase in business: invest in marketing, but not only. Aside from adding new useful features to your product, consider helping other businesses and other people. You will be remembered for the way you decided to proceed today. If you are a marketer and find it difficult to recommend a donation of any sort to your management team, then argument it by the brand awareness that you will get by helping others during these times. You will get free press coverage which will go a long way not only now but also in the future.
As mentioned above, businesses are like a domino. If you are prospering now, but most of the other businesses around you are suffering, you too will fall in the near future. It is fundamental that we support each other now, so we can survive tomorrow.
If you need some further and more specific advice during this time, get in touch. We'll waive our consultancy fees for you in order to help your business survive.
Are you struggling to find the right CSR activity?! Consider donating to WHO; the World Health Organisation is raising a COVID-19 Solidarity Response Fund.